Friday 7th April 2023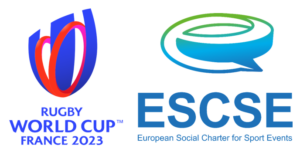 On the 5th of April 2023, EASE participated in the signature of the Social Charter of France 2023, which is also involved in the European Social Charter for Sport Events (ESCSE) project.
The ESCSE project has now been in the testing phase for a year with the sport events organisers. The inauguration of the Social Charter of France 2023 is a major event in the process of ESCSE.
France 2023 is organising the Rugby World Cup in September and October 2023. France 2023 has set itself several objectives, including becoming the most sustainable Rugby World Cup and "having a real positive impact on its people, rugby, and the planet". In this context, the partnership of the France 2023 Organizing Committee is a major asset for such a project and is fully in line with their approach. Indeed, they play an essential role in the project by participating in the development and testing of the Social Charter. They allow the project to be put into practice by confronting it with the organization of a large-scale sporting event and thus ensuring its effectiveness. It will also enrich the social impact of this event on French and European soil by adding a stone to its status as the most impactful Rugby World Cup in history.
The France 2023 Social Charter takes the body of the ESCSE and adapts it, going even further by taking into account its own social concerns. Thus, it addresses fundamental issues, such as respect for employees' working conditions, prevention of discrimination, sustainable integration into the workforce, and the promotion of volunteer work.
It is thanks to the exemplarity of events such as Paris 2024 and France 2023 that the ESCSE project will be developed and disseminated to other sporting events that wish to draw inspiration from it. Thus, through this innovative approach, the ESCSE is intended to leave a lasting mark on the world of sport events.
It was essential for the success of this project to bring on board the main event organisers of the years to come. The success of the France 2023 Charter, in its elaboration and deployment, as well as all the work done upstream on the social impact of the event, demonstrates the willingness of sporting events to commit to these issues.
The ESCSE will be finalized in May and spread in the autumn, with Philippe Diallo's desire to make it the basis for the social organisation of sport events in Europe. Indeed, these organisers should use our charter to address this issue and work with their social partners, as France 2023 has done so well, on their social impact. Furthermore, rights holders should consider including these social criteria, as well as environmental criteria, in their specifications. And finally, this could allow public authorities to take up these issues to promote the exemplary nature of these events.