On November 15th, EASE and Sport and Citizenship will organize a Conference about the European Social Charter for Sport Events (ESCSE).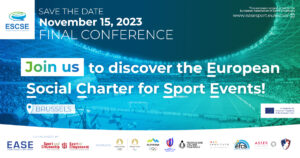 Launched in 2021, the ESCSE project starts its final phase in the second part of 2023. The very productive discussions within the consortium enabled to validate a final version of the Charter.
Now, the Charter provides 13 committments, and highlights guidelines for sport event organisers to adopt them. The conference of November 15th will present the Charter to organizers interested in improving their social dialogue.
Our conference is therefore opened to all interested partners, on November 15th in Brussels. Feel free to contact us if you want more details about this conference.
The next steps will be to convey the ESCSE to the sport event organizers in Europe, and to convince the national representatives to give a legal basis to this Charter before the end of 2024.
Share the news and register now here
The consortium is composed of
European Association of Sport Employers (EASE),
Sport and citizenship,
Paris 2024 Organising Committee,
France 2023 Rugby World Cup,
Olympic Committee for Slovenia,
Italian Volleyball Federation (FIPAV),
European Federation for Company Sport (EFCS),
Asser Institute,
Institute for Sport Governance,
French Quadball Federation.