Monday 5th July 2021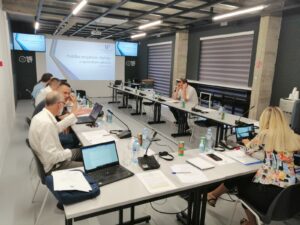 Within the framework of the project « National studies about the representativeness of the sport sector » led by EASE, a national conference on social dialogue in the sport sector was organized by the Montenegrin Employers Federation (MEF) in Podgorica last June.
The event gathered main Montenegrin sport stakeholders and was an opportunity for participants to exchange views on the role, importance and specificities of the sport sector in Montenegro and to assess and evaluate the possibilities of setting up a national association of sport employers, which is the objective of the project. The preliminary results of this survey which was conducted among sports entities, sports federations and clubs were presented at the meeting. This survey was carried out by the MEF with the aim of better understanding the situation and issues of the Montenegrin sport sector especially by identifying employers and sport organisations needs. Through this project, the intention of EASE and the MEF is to encourage decision-makers at local and national level to us the results of the survey to consider certain options and solutions, to integrate them into future practices, and thus to ensure a more efficient and productive functioning of the sport sector in Montenegro.
In addition to the representatives of the MEF and EASE, the participants of the conference were representatives of the Ministry of Education, Science, Culture and Sports, Montenegrin Olympic Committee; Directorate of Inspection Affairs (Sports Inspection Department); Secretariat for Culture and Sports of the Capital City; Directorate for Sports and Youth; Fitness Centers Association.