On the 23rd and 24th of October, EASE was in Cascais, Portugal, for the 3rd project meeting of the SOPROS project!
As a reminder, the project is led by the German Sports University of Cologne (GSU), which was also the leader of the EMPLOYS project ("Understanding, Evaluating, and Improving Good Governance in the Employment Relations of Athletes in Olympic Sports in Europe"). As this project led to a deep analysis of the employment relations of Olympic athletes in European countries, social protection has been identified as a core dimension of the employment relations of athletes in Olympic sports.
The first phase of the project consists of defining the characteristics, aspects, and dimensions of athletes' social protection in Olympic sports to draft three Self-Assessment Tools. These tools will be addressed to athletes, sports governing bodies and public authorities and presented through National Workshops.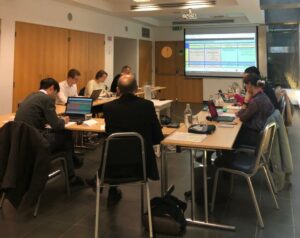 During these two-day meetings, discussions and exchanges were held on the National Workshops that have already taken place and those to come.
Then, some exchanges took place over the development of the Self-Assessment Tools.
As a policy partner in this project, EASE will help realise the different deliverables. They will provide insights into the workings of regulating athletes' social protection in France and deepen the practical understanding.
EASE is very much looking forward to cooperating and contributing to this project !